The Visitor's Maps bring all of the excitement of Panama City Beach, Panama City and the surrounding areas and puts it all in your back pocket. The printed Visitor's Maps are Free and are available in over 600 locations all around the area. Here online, we highlight the amazing places to eat, the exciting things to do and see, the myriad of available accommodations and a popular Calendar of Events for the beaches and beyond!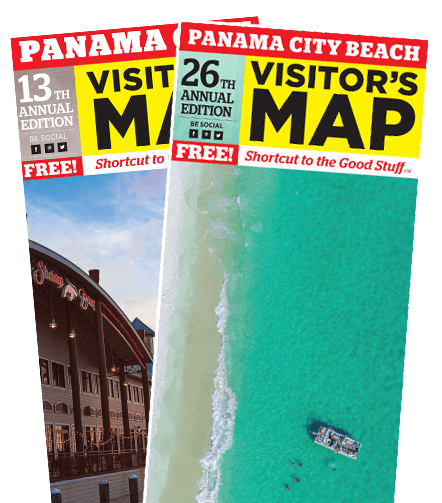 Panama City Beach Event Calendar
Always bringing you the Shortcut to the Good Stuff, the Visitor's Maps' Panama City Beach Calendar of Events also includes events in Panama City, St. Andrews, Pier Park, Grand Lagoon, Rosemary, SeaSide, Greyton Beach and surrounding areas. Click here to view the full calendar!
[add_eventon hide_past="yes" show_et_ft_img="yes" show_limit="yes" ux_val="3" event_count="8" ]
Whether you are a couple looking for the weekend getaway, a family of four looking to relax on the majestic powder white beaches, or a company looking for a unique locale for their next conference, there are a multitude of hotels on the Panama City Beach Map
Going on vacation means that you and the family get to do some fun things like go to the beach, go shopping, and hit one of the amazing restaurants in the area. Coming to Panama City or Panama City Beach, Florida is no exception
Over the last few years, Panama City Beach & Panama City have seen tremendous growth and a great deal of that growth is the large number of condominiums that have been built directly on the Gulf of Mexico and across the street from the beautiful beaches.
There are hundreds of Restaurants in Panama City Beach and almost everyone wants fresh seafood plucked like hand shucked oysters, sweet gulf shrimp, and flaky grouper pulled right from the pristine waters of the gulf!
Don't See Your Event?
Submit it for FREE!
If you know of an event that is not currently listed on our calendar, let us know about it. Gather your event info and visit the Submit An Event page and we will be happy to add your event to our calendar for Free!
ADVERTISEMENT
[the_ad_group id="481″]
ADVERTISEMENT
[the_ad_placement id="mixed-set-1″]
Get Your Business on the Maps!
For over 25 years, we have been helping businesses in our area get discovered by the millions of visitors that vacation in our area each year. We've also got a huge local following with our printed pieces and online presence. See what being a part of the Visitor's Map can do for your business
Order A Map Before You Arrive!
Did you know that you can order either one of popular Visitor's Maps before you join us on the world's most beautiful beaches?  Just pay $2 for the shipping and handling charges and we'll ship them to your door so you can start planning your trip to Panama City Beach & Panama City!