Order A Visitor's Map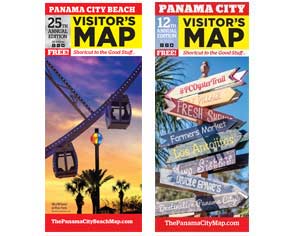 Visitor's Maps for Panama City Beach and Panama City!
Although our maps are available for free in over 600 locations all over the surrounding area, we get tons of requests to have one (or both) of our maps delivered to visitors prior to their arrival at our beautiful beach community. We would be happy to send you one for the cost of the shipping & handling, Know your purchase info is safe and secure with Pay Pal checkout.
Purchase either or both maps by making your selection below!
Please contact us directly if you would like to order the Panama City Beach or Panama City Visitor's Map in bulk.  We will be happy to ship you a case for your group or reunion.
---
Get Your Business on the Maps!
For over 25 years, we have been helping businesses in our area get discovered by the millions of visitors that vacation in our area each year. We've also got a huge local following with our printed pieces and online presence. See what being a part of the Visitor's Map can do for your business
Order A Map Before You Arrive!
Did you know that you can order either one of popular Visitor's Maps before you join us on the world's most beautiful beaches?  Just pay $2 for the shipping and handling charges and we'll ship them to your door so you can start planning your trip to Panama City Beach & Panama City!