Are you a food fan like we are?  If so, the St. Andrews Waterfront Market is a do not miss event.  Held every Saturday when the weather is nice and warm, the Marina in St. Andrews transforms from a popular boat dock and fishing spot to one of the best Farmer's Markets in North Florida.
In our house, trekking down to St. Andrews on a bright and shiny Saturday morning has become a bit of a tradition.  Sure my wife wants to sleep in and the little one wants to lounge around and watch cartoons,  but I am always determined to get to the market early because you never know what the produce vendors are bringing in or if they will sell out of those very exclusive garden finds!
The wife usually gives me "The Eye" which in most circumstances reminds me of who the real boss is, but all it takes is a subtle reminder about how we missed out on the purple hull peas or how our favorite bread vendor ran out of baguettes ten minutes before we arrived and she is up and rolling.  Since the market is pet friendly, we load up our trusty pup Elwood and roll out early to make sure that we don't miss, "the good stuff."  Insert trusty PCBMap tagline here!
I have to admit to a bit of food geekiness as the closer we get to the market, I start to get excited by the possibilities of what the produce vendors might have this week.  We really love how the variety changes based on what's fresh and what's in season.  Although I have some sort an idea of what I am looking for to complete our menu for the week, I always look forward to what might be available this time.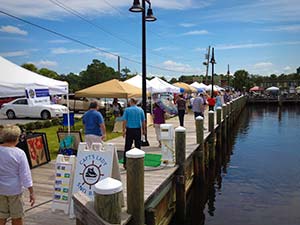 We have been very lucky in the past and have scored some really great produce that you can't find in many of the local grocery stores  – humongous yellow squash, fresh pre-hulled white acre & purple hull peas, right off the vine okra, fresh fennel, delightfully bitter Swiss chard, the ever elusive Chinese long beans and even Japanese eggplants. Yum!  My pre-planned menu might just get thrown out the window.
Parking is a breeze since there are two areas of the market – one by the Shrimp Boat and one over on the Marina – we usually flip flop on where to start first.  Where ever we choose to start our journey, we always plan to keep our money in our pocket until we have walked through the entire market.  Unfortunately, with so many amazing choices and wonderfully nice people selling their handcrafted wares and delicious down home food items, it never happens that way.  I am a sucker for made from scratch delights so I usually end up being the one that breaks that rule by scoring a homemade mango habanero salsa, fresh from the oven pita bread, or straight from the hive Florida honey.  It is literally too good to pass up.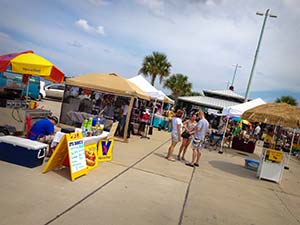 If you don't feel like walking from one area of the market to the other, you don't have to!  St. Andrew's Waterfront Market is America's only Ferry Connected Farmer's Market!  Whether you park over by the Marina or you park at the Shrimp Boat, you can take a leisurely ride through the Marina on the St. Andrews Ferry.  It's a short and pleasant ride that gives you a totally different perspective of St. Andrews.
Speaking of too good to pass up, lets talk about the bread.  Wowza.  Here's another reason you need to get to the market early.  If you don't, you might not be able to get your hands on some of the best fresh baked bread in the area.  Our personal favorite bread vendor is Cekot Breads and it is run by one of our Team Members and her husband.  This could sound like a shameless plug – and in some ways it is – but they really do make some seriously awesome bread!  They hit the market with a van loaded with some amazing fresh baked bread of all sizes, shapes and smells and usually sell out well before the end of the day.
Our personal faves are the family sized Rye, the Baguettes, the Basil Pesto Focaccia with Kalamata Olives & Pecorino Romano and their own patented 20 Grain Whole Wheat.  Look forward to hearing what your favorites are!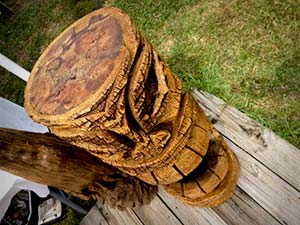 Don't let all of this talk of food, produce, and baked goods give you the impression that is the only thing you can get at the St. Andrews Market.  There are tons of talented arts and craft vendors selling their unique wares and hand crafted items.  Over the last few visits, we have seen handmade jewelry, unique children's clothes, beautiful wooden kitchen ware, and other great gift ideas for the home and kitchen.  On our last trip we met a wood carver that uses a chainsaw to make amazing statues and figures.  His Tiki statue and Wizard made from a cypress stump had the wife and I trying to rearrange our budget so we could take one home!
The weekend Farmers Markets have been so successful in St. Andrews that on April of this year, they have expanded to include the beach.  On Sundays from 11am til 4pm in Pirate's Cove Marina, many of the same vendors that visit the St. Andrew's Market are displaying their wares at this new location.  We personally have not been to this market, but we have talked with a number of vendors that participate and we are sure that you'll be able to find lots of fresh grown goodness on the beach!
After all of this talk about the wonderful veggies, fruits, breads and homemade goods, it's time to start planning my menu for next week and getting my list ready for our trip to the market this weekend.  Hopefully we'll see you out at the market!  Just make sure to leave a few perfect tomatoes for me!
St Andrews Waterfront Market
Saturdays 8am to 1pm
Beck Ave & St. Andrews Marina
Grand Lagoon Waterfront Market
Sundays, 11am to 4pm
Pirate's Cove Marina on Thomas Drive
www.historicstandrews.com
www.waterfrontmarkets.org
St. Andrews Waterfront Market Gallery