Sugar white sand. Seashells. Sand Dollars. Pristine. I'd like to share 5 different ways I found to see famous Shell Island in Panama City Beach, Florida. Shell Island is a gorgeous 7-mile long undeveloped barrier island lying between the Gulf of Mexico and St. Andrews Bay. No hi-rise condos here.  Actually, you won't find amenities at all – for a reason.  This beautiful island has been kept as pristine as possible.
Once you've arrived on the island, you can either walk along the beach looking for shells or do some snorkeling to find star fish and sand dollars.  On some of the tours, you can get into the water so you can swim with the dolphins – a truly memorable experience!
On the way to the island, we caught sight of a dolphin.  There are many Bottlenose dolphins in the area, so it's actually unusual if you don't encounter them.  The captain dropped us off at one of the docks and told us they'd return in a while to pick us up and take us back.   In the meantime we were free to explore the island, take all the pictures we wanted and pick up all the shells our hearts desired- as long as they weren't inhabited.
So off we went.  There's a wooden boardwalk leading from the dock to the other side of Shell Island where you'll find the sugar white sandy beach.  The sun was hot the day we were there, and the bright sun shining on the water made it look like a watercolor painting in greens and blues.  I saw a crab tumbling around in the water right at the beach edge, and watched as he was carried farther out into the Gulf waters where he was lost to sight.
The white sand beach was scattered with shells – mostly pieces in varying sizes and shapes and pastel colors.  If you wade into the water – or snorkel – you have a much better chance of getting some whole shells, which are quite a find.  After a while we wandered into the center of the island.  There we found pockets of sand where it had infiltrated the interior of the island, covered with bits and pieces of innumerable shells – like a veritable shell graveyard, along with lots of sea oats growing.
We saw a small area cordoned at a sea turtle's nest site, so make sure if you see one don't disturb them since they're protected.
All in all, Shell Island is a definite destination for anyone visiting Panama City or Panama City Beach.  Sometimes it's just nice to get away from all the buildings and noise to experience nature as it was meant to be.
And since there are more than a few places to rent your own pontoon boat or jet ski, go for a tour on a pirate ship, or sail on a catamaran, go parasailing, or take a helicopter ride, you can do the kind of exploring that suits you best.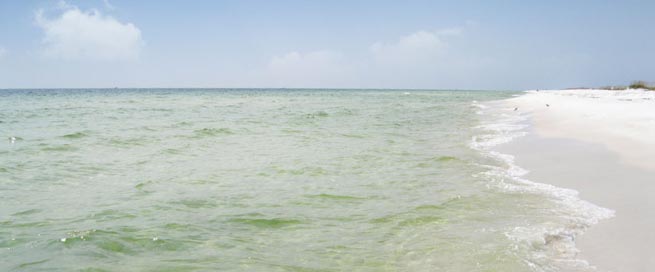 I took a guided pontoon boat tour to Shell Island.  But of course there are other ways to get there and to explore the island.  Let's take a look at the 5 ways I found:
Here's where you can either go on a guided tour or rent your own pontoon boat or jet skis.  Some of these go near Shell Island and others take you right to the island: Captain Anderson  www.captandersonsmarina.com, Sea Screamer www.seascreamer.net,  Flippers www.goflippersgo.com, Dolphin Tours and More www.panamacitybeachdolphintours.com
There's a pirate ship too, which really looks like fun.  Sea Dragon Pirate Cruise  www.piratecruise.net
You can also sail there on a rather impressive looking catamaran.  Paradise Adventures www.paradiseadventurespcb.com, Island Time Sailing www.islandtimesailing.com
And if parasailing is on your bucket list, you can do that as well.  Aquatic Adventures www.pcbeachadventures.com
There's even an awesome helicopter ride so you can see Shell Island from high up.  Panhandle Helicopter www.panhandlehelicopter.com
Keep in mind that some of these wonderful companies offer more than one way to get to Shell Island, so feel free to check them all out!