Fresh From The Gulf Seafood  & More!
On Panama City Beach, Buddy's Seafood Market is an institution. Locals and tourists have been flocking to Buddy's for over twenty-five years. It's hard to believe one of the best Panama City Beach restaurants is actually a fish market! Their specialty is fish and shellfish–all pulled straight out of the Gulf of Mexico. It's here you'll find a scrumptious assortment of shrimp, Gulf fresh fish, blue ribbon gumbo and delectable homemade pies.
If you're feeling uninspired to cook for yourself, saddle up to the steam bar and the crew at Buddy's will fix you up a ready-to-eat to go order.
Buddy's owner Brian Cooper modestly shrugs off any praise. He credits the business's success to his hard working staff, but it's not long before I get him to admit he's put the key in the lock to meet delivery trucks at 3am more than once. "We're here when the fish get here. And that can be at any time of day, anytime of year". The standard daily routine involves coming in at sun-up to take deliveries, clean fish, stock and prepare for the day's affairs–a thousand customers a day on average. It's that kind of foot traffic that explains how word about Buddy's has traveled–near and far."Our city's Mayor in Indiana told me about Buddy's" shares one Midwest visitor. "Many of our customers grew up with Buddy's as a tradition" adds Brian's brother Matt, who has co-managed the operation with Cooper for nearly fifteen years.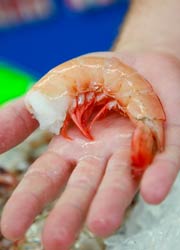 For locals, Buddy's can be a weekly or bi-weekly stop. The daily deliveries include shrimp and hoppers without exception–a further guarantee to product freshness. "They come in daily and we have them all" Cooper rattles off a ballot of shrimp, "Brown, pink, white, Royal Reds…." I can't help but think of Gump. "Of course we have scallops, snow crab, blue crab and lobster, too. The shrimp, it turns out, are of special significance. Buddy's sells only the premium brand Certified Wild American Shrimp. They're brought in from Woods Fisheries a fifth generational family of shrimpers that's been in the business for 150 years.
"They distribute between twenty and thirty million pounds of shrimp worldwide every year" explains Cooper. It's Buddy Wood that first opened the seafood market in the late 1980's, converting a "Junior" convenient store on Highway 79, just a stone's throw from Back Beach Road (now Panama City Beach Parkway).
Although it's primarily the shrimp and fresh fish choices of snapper, grouper and tuna that conjure the masses to Buddy's. There's the ever popular steam bar located less than ten paces left of the fish counter. I inquire about the succinctness of the Buddy's "To Go" menu (a grand total of five choices) and the doctrine of the market's "secret" recipes. Specifically I ask "What's in the gumbo?"
"It all goes back to Buddy's wife, Miss Linda" begins Cooper. "Everything on the menu are still her unchanged original recipes". First and foremost this includes Buddy's coveted tuna dip and their delicious cocktail sauce, both tasty enough to write home about. It also includes dishes that appear simply prepared at the market's steam bar, but that's an illusion of simplicity that comes with Cooper's modesty. Again, he compliments his staff.
"Jared and Mookie are two of our expert steamers". And steaming it turns out is an art. It's doesn't hurt that the staff at Buddy's is working with the Cadillac of steamers and a pinch of Miss Linda's magic seasoning. The magic seasoning is seems is key.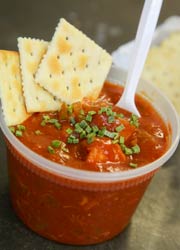 If you're not feeling adventurous enough to prepare your own meal, step up to the steam bar and take home a shrimp dinner for two for less than twenty bucks, an absolute bargain. Don't hesitate to add a side of corn on the cob and new potatoes, both are dashed with Miss Linda's classified ingredients. As is the gumbo I suspect, which Cooper's moved way past and isn't budging on the blue ribbon winner's recipe.
Finally we get to my favorite part of Buddy's and it's not something you'd expect to find in your everyday seafood market…..homemade pies.
The pies at Buddy's Seafood Market are out-of-this-world. There's the Key Lime and that's a story in and of itself, with a homemade graham cracker crust, and smooth, satiny non-baked filling–a pie that will leave your taste buds doing a happy dance. But it's the brother to this pie, the Strawberry Key Lime that had me wanting to take the afternoon off. Just the two of us. Me and the pie. I'm about to inquire into the process of creating such a heavenly delight, but of course I know better. Brian's already passing credit to his brother Matt for this dessert tart nirvana. "Matt was inspired to create something no one else had." Lucky for us. Very lucky.
Buddy's Seafood Market Business hours are 10am-6pm and is open three hundred and sixty-five days a year, minus holidays with a tree or turkey.
Address:
111 S. Highway 79
Panama City Beach, Florida 32407
Phone Number:
Local: 1.850.234.2609