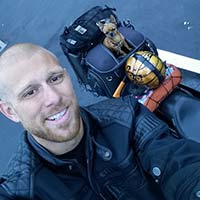 On Tuesday, November 18, Harley-Davidson of Panama City Beach will host a unique guest with an interesting story. Adam Sandoval, a mixed martial artist from Fort Myers, FL, and his Chihuahua Scooter, are on a nationwide quest to raise money and awareness for fallen soldiers, as well as break three world records. At 9:00 AM next Tuesday the two will arrive (via Harley-Davidson, of course) at the dealership for an hour-long meet & greet and photo op with guests.
"Scoot in America" is a series of short videos chronicling the adventures of Adam and Scooter as they visit all 696 Harley-Davidson dealerships in the country within the next year. They started their journey on November 10, 2014, the birthday of the U.S. Marine Corps. Through their trek they'll log an estimated 65,000 miles. Along the way, they'll explore the best riding routs in America, explore local customs and legends and, most importantly, raise money for America's Military Veterans. When all said and done, the two will have broken the Guinness Book of World Records for Longest Charity Ride, Longest Motorcycle Ride, and most miles ridden on a motorcycle in a single country. Riders are free to join the ride for the day, or as long as they would like.
Adam and Scooter moved to Florida three years ago from Green Bay, WI to enjoy riding their motorcycle year round. This ride definitely fits that bill. You will be able to track Scoot in America and their adventures live on Facebook
(https://www.facebook.com/ScootinAmerica) via videos and pictures being posted daily. Followers can see their page to get up to date routes, and charitable donation information and location.