Any time of the year you can plan a fun escape to Panama City Beach is going to be a great time. There are some seriously convincing reasons to think about visiting during the late Summer (and even into Fall) though. So if your travel dates are flexible, and you can hold out just a little longer to slip on your flip flops and sip a daiquiri by the pool, then read on…
Sunsets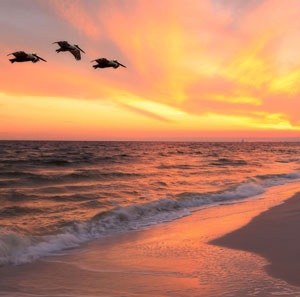 During the late Summer and Fall seasons, the skies above Panama City Beach catch fire!
There's some science behind why the sunsets have much deeper colors at this time of the year.
Whenever the sun is lower down on the horizon, then the light has to travel through more air. That air is full of molecules which filter the violet and blue tones that make it to your eyes. That leaves you with stunning deep pink and firey orange skies!
Sure, that's all well and good, but the bottom line is that there's just something special that stops you in place, and makes your jaw drop when you get to see a truly spectacular sunset.
Service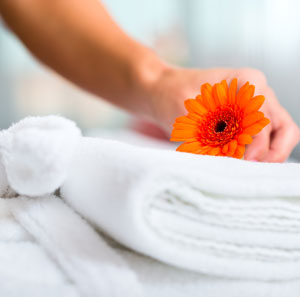 As soon as School's let out for the Summer holiday, families seem to scramble to book their Panama City Beach vacation.
The distribution of bookings is concentrated in the first few weeks and towards the middle. Very few people either want to, or have the patience to wait until late summer to get to the beach.
That's perfectly understandable, and also allows for a big advantage if you can wait until then.
During those busier few weeks of summer, everybody wants to go to the attractions and eat dinner at the same time. Hotels and Condos are checking in hundreds of families, and everybody who is working is stretched.
Whenever there's less pressure and more time for everybody to work with, the quality of service you can expect increases.
People will have more time to pay special attention to you, get to know you, and go the extra mile to help you out.
Sunshine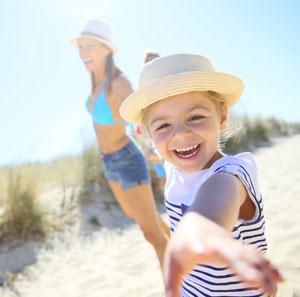 Late Summer, and even Fall, do not mean there's no more sunshine left!
Panama City Beach actually gets over 320 days of sunshine per year, so there's more than enough to go around.
Late Summer is without question still warm enough to lay out and work on your sun tan.
Here's a sure sign that it's a great time to visit: Locals actually welcome the late summer and Fall season because it's the "Goldilocks" time of the year for sunshine. Not too hot, not too cool, but just right…
So don't let a misconception that late Summer and Fall means you won't be able to spend all day on the beach. It's actually the perfect time to do it.
Stress-Free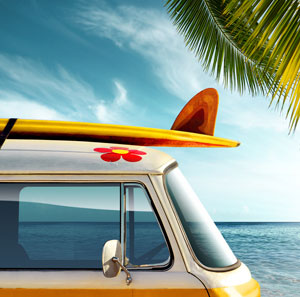 There aren't many sources of stress when you're on vacation, but inevitably there's always something.
Hopefully it's not because your cell phone went for a swim in the pool!
One of the most common is road traffic. Luckily, Panama City Beach isn't very spread out, and even during the busiest times, there's never really THAT much traffic to contend with.
However, there's practically none during the late Summer and Fall seasons since there are fewer people in town.
So by visiting during the late Summer, you automatically remove one of the most potentially stressful parts of your vacation!
Seclusion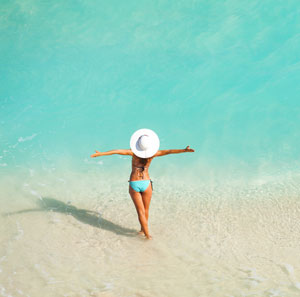 Ok, to confess, Panama City Beach isn't exactly "secluded" during the late Summer.
But we're running a list of points that begin with an 'S' and nobody can dispute the fact that it is much quieter and more peaceful.
There are over 27 miles of white sandy beaches in Panama City Beach, Florida.
So if you do want to find a spot that you consider secluded, then you wont have to travel too far to find a beach access point you like.
There is something pleasant about looking around and not seeing anybody for miles. It doesn't happen too often, so to feel like you have a slice of paradise all to yourself is kinda cool.
Savings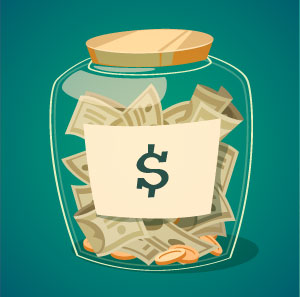 We might have saved the most enticing reason for last… This one ties in with there being lower demand during this time.
Resort, Hotels and Condos (including The Sandpiper Beacon Beach Resort) realize that when fewer people are staying with them, one of the ways they can try to encourage more people to visit is by lowering their rates.
Some even go one step further and offer free nights as incentives for longer stays.
Paying lower rates and saving money are pretty convincing reasons by themselves. However, when you can save money on top of all the other great reasons above, that's a winning combination.
We'll stop before we start to sound like an infomercial for a product you don't need. But by visiting Panama City Beach in the Late Summer you can get so much more, and pay less.
BUT WAIT! Call in the next 15 minutes and we'll double your offer… 😉 Just kidding…
———————————————————————————————-
This great article was provided by our friends at the Sandpiper Beacon Beach Resort. Make sure that you visit them at www.sandpiperbeacon.com or visit their featured listing here on The Panama City Beach Visitor's Map! Hope to see you on our beautiful beaches for late summer or fall!