There's a reason photographers call it the Golden Hour. It's when no clever tricks or computer editing are needed to make their subjects look … spectacular. The bronzing kiss of the dying sun makes everyone look like a supermodel or movie star.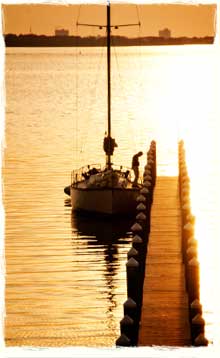 It's then that you can stand facing west with your feet at the waters edge and, at just the right moment, the sea breeze feels and smells like it does at no other time. The heat of the day ebbing as the sun dissolves over the horizon, the cool of the coming night first making itself known.
Gathering at the water's edge to bid the day adieu is an ancient practice that persists today in magical locations all over the globe. St. Andrews, the cozy, secret hamlet between Panama City and Panama City Beach, is on that list.
Every Thursday through October 9th you can join the locals in the majestic ritual of saying goodbye to the day as they gather in St. Andrews for a community street party. Starting at 4 pm they'll be live music, street performers, and an array of vendors offering food, crafts, fresh produce, and local artists showing off their talent.
At sunset join with everyone at the marina, bring a camera or a conch and celebrate the close of another day in Northwest Florida. Then it's time to retreat and feast at one of St. Andrews' delectable eateries, wiling away the hours listening to local bands until Old Sol's sneak attack from the east brings the gift of a new day to the place some call paradise, and we call home.
For info on this event and other upcoming events in Historic St Andrews visit the website www.historicstandrews.com or on their official Facebook Page
[wpautbox authorid="4″]