Looking for something to do with the kids this Halloween? Don't miss ZooBOO! Zooworld in Panama City Beach, Florida is hosting its Annual Trick or Treat at the Zoological & Botanical Park on October 31st and November 1st, 2015. From 10:00 am – 4:00 pm both days, everyone can enjoy trick or treating in a safe, fun, educational and scare-free environment. It doesn't get any better than that!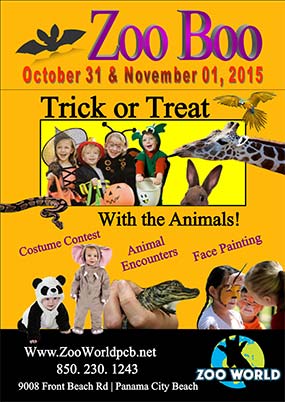 Admission prices are $10 for ages 2 and up and $5 for Season Pass Holders. Each child will receive a free bucket from ZooWorld to keep all their treats safe while trick or treating through the Zoo. In addition to getting to see all the cool animals at Zooworld, there will be face painting, games, shows, animal meet and greets and much more. There will even be a costume contest for those that want to show off their Halloween creativity. So get those costumes ready and head to ZooWorld in Panama City Beach, Florida this Halloween weekend on Saturday and Sunday for ZooBOO!
More about Zooworld!
ZooWorld in Panama City Beach is home to over 30 zoo animals. Do you like monkeys? They're so cute and ZooWorld has many different species to see. Can you tell the difference between the Spider Monkey and the Squirrel Monkey? And what about the Big Cats? Do you know the difference between a Bengal Tiger, a Jaguar and a Sumatran Tiger?
ZooWorld also has a Lion, Leopard, Black Bear and many more really cool animals to see like the Marmoset, Kookaburra and African Crested Porcupine. They even have a Dromedary Camel at ZooWorld. How cool is that? And while you're there, don't miss ZooWorld's Animal Encounters. You can get up close and personal with a Lemur and a Giraffe. Did you know Giraffes have purple tongues? Well, they do and you can see it for yourself at ZooWorld in Panama City Beach, Florida.
Read more about ZooBOO at zooworldpcb.net/zooworldanimals.html
Read more about ZooWorld right here on The Visitor's Map!